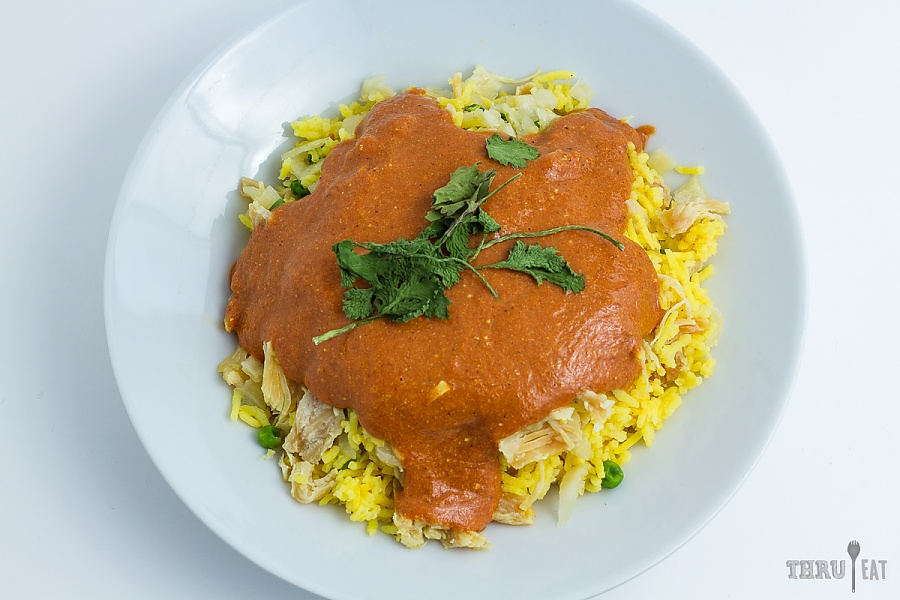 Packaging
Bag 1:
Bag 2:
All other in ingredients and spices, except for salt.
Sometimes we do things not out of necessity, but simply because we can. So why not eat chicken tikka masala while out backpacking?!
I know it sounds crazy, because it is, but this recipe is much easier than it appears. While the list of ingredients is quite long, the preparation is very minimal and the payoff is nothing short of 'surprisingly amazing.'
Admittedly, the prepared photo above is a little misleading because it's cooked in two batches. The rice and chicken was rehydrated and then drained, then the sauce was rehydrated and poured on top of the rice. That was done simply for aesthetic reasons, but on the trail I would absolutely cook it in the same pot; although in two stages. While you won't get the tasty masala sauce draped over the basmati rice, the taste will be the same and you'll have less cleaning to do if you eat straight out of your pot.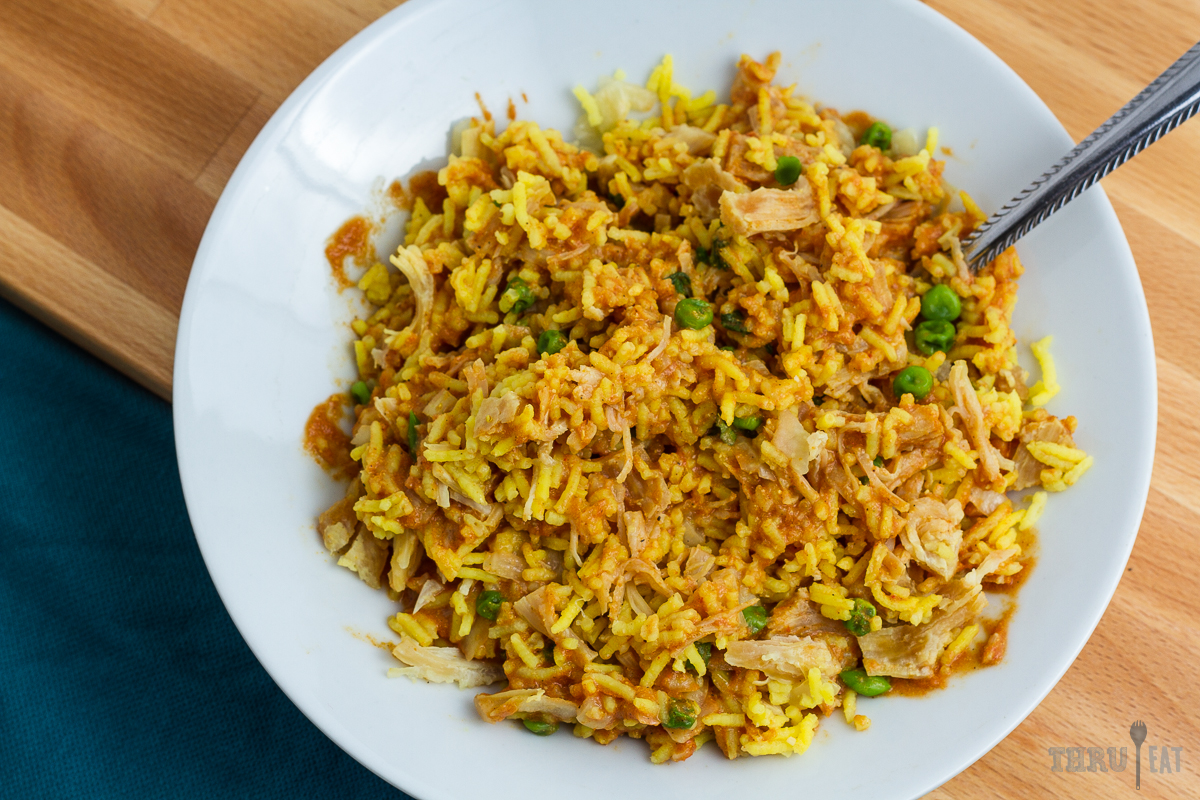 If you're British or you eat chicken tikka masala often then this probably won't blow your pants off, but rest assured it's good! Because there's no real uniform recipe for chicken tikka masala this might taste completely different than what you're used to. I highly recommend doing a test run of this dish before you take it out on a long trip.
Some of the spices may be overpowering if they're particularly fresh. I have a huge array of spices in my collection, but they're also pretty old. The measurements of each spice reflects that age; if you have fresher spices you'll probably want to dial it back a bit. But like I said, make a test batch first.
Doing a test run at home will also allow you to tweak the taste to exactly what you like. During my first batch I couldn't get the dehydrated greek yogurt to dissolve, it stayed chunky. The second batch had too much tomato paste which made it taste stewy, which wasn't bad but not exactly what I had in mind. Finally, on the third attempt it was success.
Probably the most important lesson learned from all the testing was powdering the greek yogurt. The dehydrated chips of yogurt are tasty to eat as little snacks, but they don't rehydrated worth a damn. I highly recommend using powdered sour cream or increasing the powdered milk, it yields a significantly smoother consistency.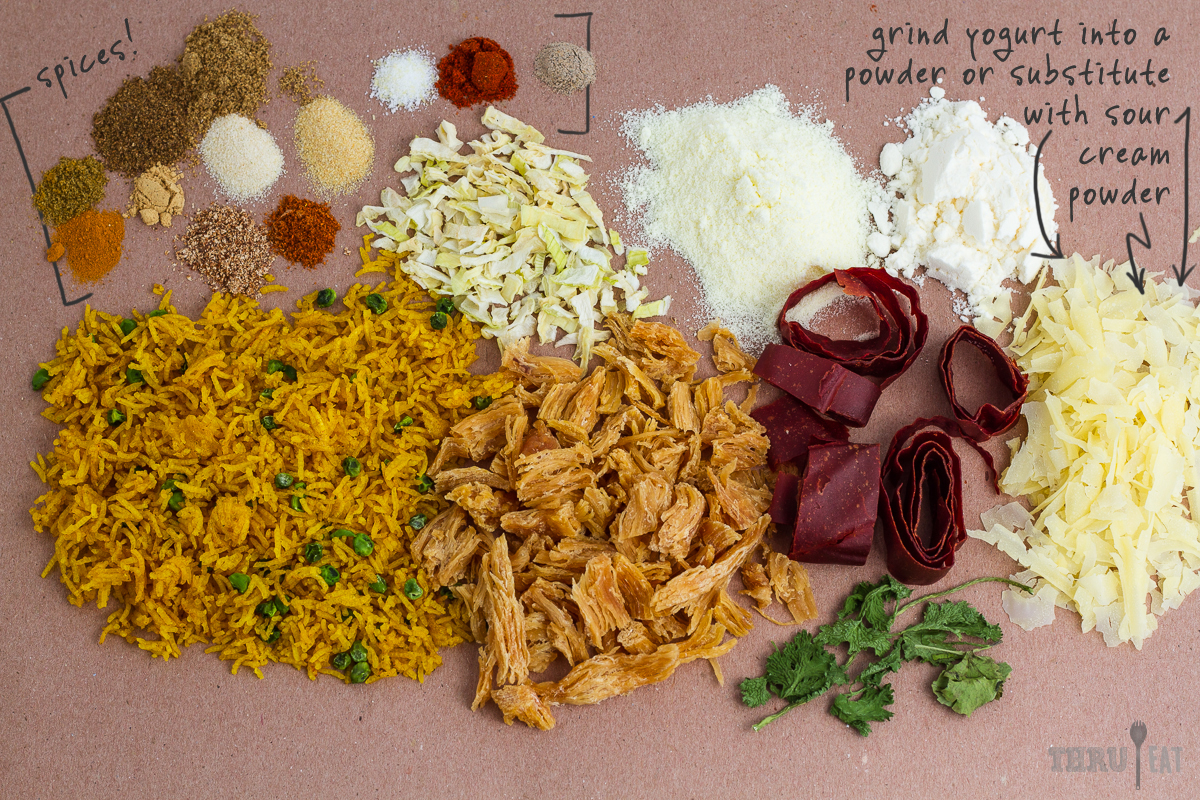 Directions
Empty contents of Bag 1 (rice, chicken, and onions) into a pot and submerge under 1/2"-1" of water.
Cover and simmer for 10 minutes, stirring occasionally.
Check chicken for doneness, and make sure rice is still plenty wet. Aim for very wet but not soupy.
Add contents of Bag 2 (spices) and stir over low heat.
If necessary, add more water.
Season to taste with salt. (you will need to add salt, trust me)