Who (in the world are we)?
We are two full time working professionals who have always enjoyed the outdoors. In August and September of 2014 we thru-hiked the John Muir Trail and received much more than we could imagine from the experience.


What (do we do for fun)?
Most of our days are spent thinking about the next great adventure, and all the logistics that come with it. The obvious long distance trails like PCT, AT, and CDT immediately come to mind; but we're perfectly content exploring the wilderness around us and traveling to different parts of the country to take in new sites and sounds.
When (do we find the time)?
Between work and sleep (and sometimes during sleep); also, the weekends! We're perpetually ready to jump at any chance to get outdoors, even if it means driving all night after a long day at work. When we're not out hiking or camping, we're at home thinking about things to dehydrate or take with us on our next trip.
Where (are we)?
We live along the coast in Southern California. The place we call home is a tourist destination for many and a popular place for retirees, but most weekends we're packing our bags, loading up the car, and heading to the mountains or the desert.


Why (are we running this website)?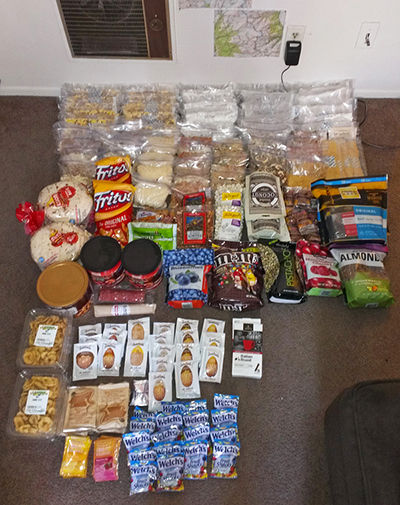 Prior to our JMT thru-hike, we spent nearly 6 months planning, purchasing, evaluating, and shaking down our gear. We nailed down our packing list, but the one consistent issue was food. We knew we had to consume a certain number of calories to sustain our bodies, and we knew premade backpacking food options exist, but we didn't like the variety or the price.
In reality, any food can be backpacking food, as long as you're willing to carry it. Mind you, we're not (terribly) lazy, but we also didn't want to carry extra food weight if we didn't have to. So we turned to dehydration and other alternative backpacking food ideas. However, online resources were not obvious, and what we could find was sparse or incomplete. 
An inordinate amount of time was spent researching, testing, and re-testing food ideas. We found a lot of food storage and preservation methods but no one really addressed the food issues of a backpacker: lightweight, calorie dense, and tasty. It was necessary that everything we brought was something we'd crave for at the end of the day (although that's not too difficult when you're lugging a pack up a mountain all day).
After spending so much effort reinventing the wheel, we realized we had knowledge that could be shared and save other backpackers a lot of stress and time.
While this site may end up as a dehydrator guide or recipe index, our ultimate goal is to develop, test, aggregate, and present ideas for backpacking foods and meals that are:
light weight
nutrient dense
calorie dense
affordable
tasty
How (can we afford to do this)?
In reality, we can't. It takes a lot of time and effort to write detailed reports and take photos. We end up throwing away many failed attempts, and while we pack and store most of our food ideas for future trail use, there's inevitably a large amount we can't consume. It also takes a significant amount of electricity to run a dehydrator as much as we do (thankfully we haven't had to get a second dehydrator, yet…). Ultimately, we spend more money than we should to make this information available, but it's worth if even one person finds it helpful.
We rely on lots of coffee and enthusiasm for the the outdoors to keep us going, but mostly we rely on our site visitors and fellow backpackers to help keep the dehydrators running and our coffee pots full. You may find that the majority of links on our site are affiliate links. This means when you make a purchase from places like Amazon.com we earn a small commission, but it doesn't cost you anything extra. If you enjoy our wisecracks or find any information useful, please help us out by clicking one of our links before you make a purchase. Please know that we do not post, review, or recommend anything for the sake of profit; everything we write about is something we've tried for ourselves, would gladly use, or genuinely believe in.
Happiest of trails!