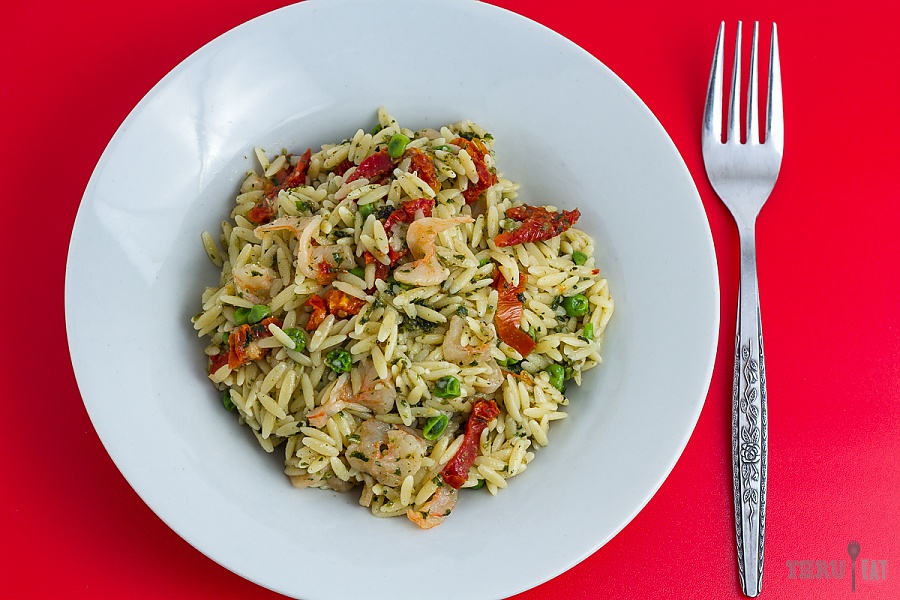 Packaging
Bag 1:
orzo
shrimp
peas
sun dried tomatoes
Bag 2:
garlic powder
onion powder
oregano
True Lemon
dried lemon peel
parmesan cheese
Olive oil
Are you taking your crush or significant other out backpacking for the first time? Then bring along this meal to jazz up the romance.
There are very few things worse than having a crummy meal at the end of a long hiking day, even worse when you're trying to impress someone or show them a good time. While some people say shrimp is an aphrodisiac, I can't guarantee this meal will help you get lucky in the woods. However, I'm willing to bet it'll make their experience a whole lot more enjoyable. If nothing else, it doesn't hurt to try, and you get to stuff your face with some delicious food.
If sexy times isn't your goal, then just take solace in the fact that you're eating shrimp out in the wilderness while your fellow explorers around you are probably begrudgingly filling their face with gruel or some other equally unappealing slop fit for savages. You magnificently refined gentle[wo]man.
Now that I've sufficiently stroked your ego, I'd typically drone on and on about how tasty this recipe is or how great and easy it is to prepare, but I'll spare you this time. The pictures speak for themselves. Dee. Lish. Us.
If you're a regular visitor you probably already know I'm a fan of dehydrating everything before hitting the trail, including my grains, noodles, and starches. However, given the small granular shape of orzo it's not worth the effort. More importantly, the cook time for orzo is about on par with the time it takes to rehydrate shrimp and get some life back into the sun dried tomatoes. This allows us to dump everything in at once instead of having to add ingredients in stages.
While putting together this recipe I was surprised by the loss of flavor in my dehydrated pesto. Typically, dried herbs have a significantly stronger flavor, aroma, and taste, not true in this particular case. I ended up having to add additional pesto (a total of 5 grams) before the flavor came through. None the less, consider packing a little extra if you want to deliver a bigger punch.
I would be remiss if I didn't tell you about the shrimp. It will not rehydrate back to its former texture. The end product is slightly chewy, and akin to overcooked shrimp. Which is exactly what it is. Since we dehydrate cooked shrimp, the rehydrating process continues to cook them. This typically isn't a problem with other proteins, as they actually get more tender, but shrimp does not behave that way. While they'll be chewy like overcooked shrimp, they should not be tough and should have a springy snap when bitten through. Most importantly, they taste like shrimp. Delicious delicious shrimp.
Lastly, I need to say a few things about sun dried tomatoes. You can make your own sun dried tomatoes in your dehydrator. Most sun dried tomatoes aren't even dried in the sun. Having said that, I buy my sun dried tomatoes at the store because it's easier than waiting for tomatoes to be in season and then having to process a huge batch. The only requirement is that you get the kind that comes dried in a bag, not the stuff in oil. If you can't find the dried bagged variety, then fire up the dehydrator, you're making your own!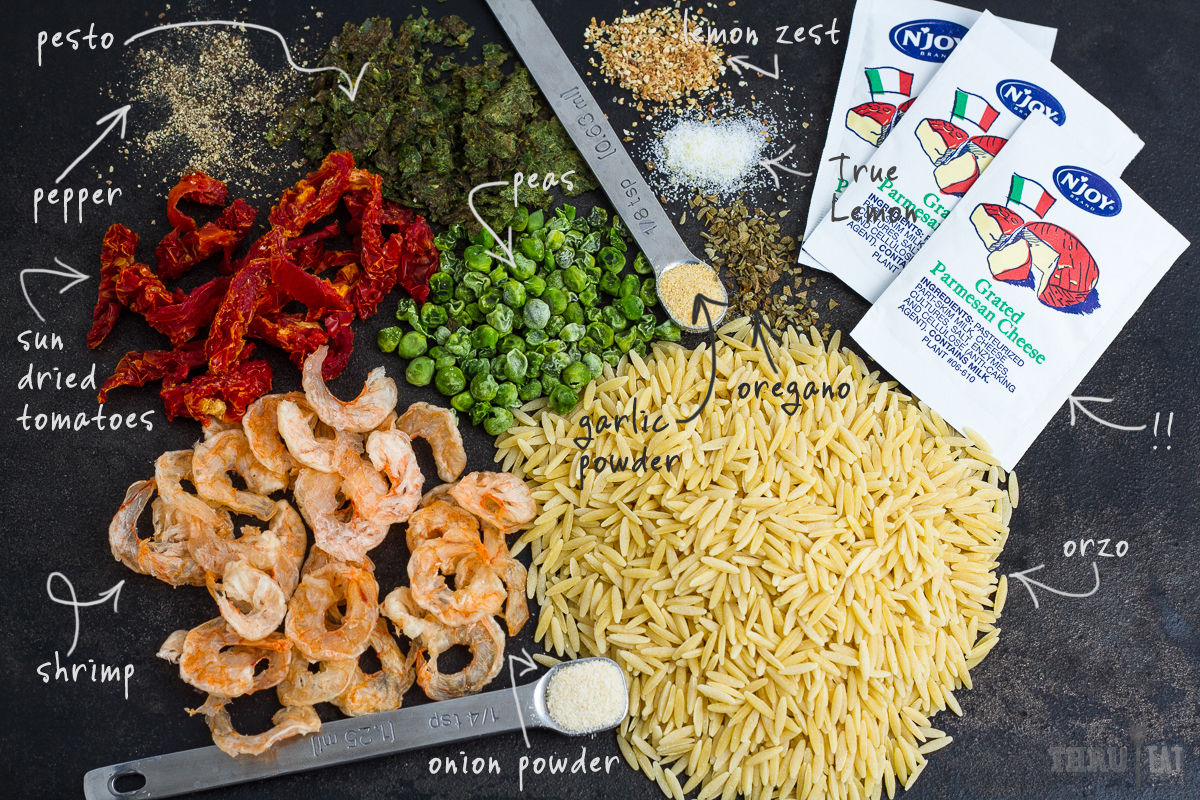 Directions
Empty contents of Bag 1 (orzo, shrimp, peas, sun dried tomatoes) into a pot and fill with water to completely submerge.
Place on heat and bring to a boil.
Reduce heat and simmer for 10 minutes.
Check orzo for doneness.
Drain pot completely, being careful not to lose any peas or orzo.
Add olive oil and stir briefly.
Add contents of Bag 2 (spices) and stir until pesto is completely dissolved.
If necessary, add more oil or water and place back on heat and stir until all spices are rehydrated or dissolved.