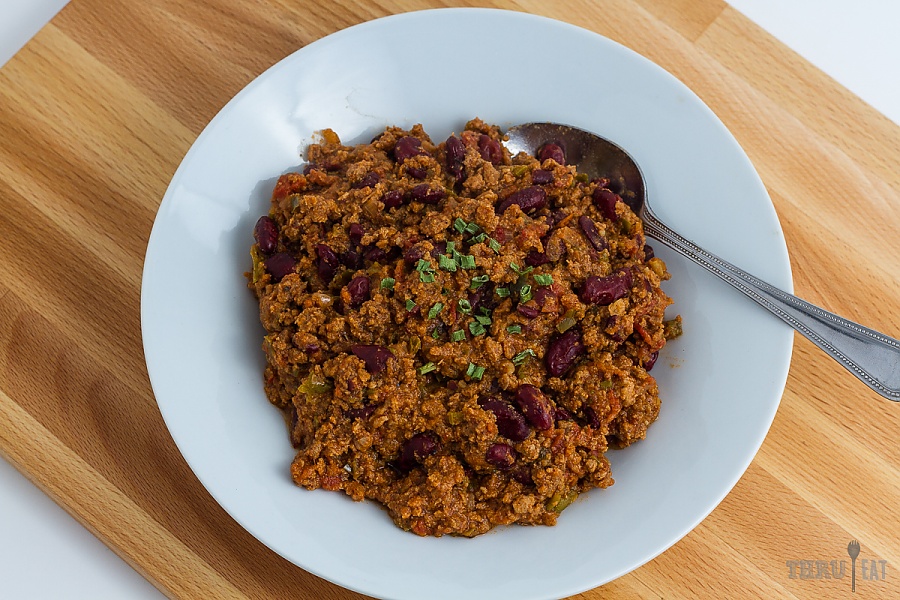 | | | |
| --- | --- | --- |
| 567g, 1.25lbs, 1 package | 99% lean ground turkey | 608 cal |
| 455g, 1 can | kidney beans | 385 cal |
| 441g, 1 can | crushed tomatoes | 53 cal |
| 150g, 1 large | onions | 60 cal |
| 164g, 1 large | green bell pepper | 33 cal |
| 28g, 1 medium | jalapeno | 8 cal |
| 6g, 1 tbsp | chili powder | 24 cal |
| 2 cups | chicken stock | 13 cal |
| 5g, 1 tbsp | hot sauce (Frank's Red Hot) | 0 cal |
| 1 tsp | dried basil | 0 cal |
| 1/2 tsp | dried oregano | 0 cal |
| 14g, 1 tbsp | olive oil (added after rehydration) | 119 cal |
Notes:
The above weights and calories are based off of wet-weight, nothing has been dried.
This makes approximately 2.5-3 servings; photo shown is 1 (very large) serving.
Calorie density below is based on dehydrated weight for 1 serving.
For the most part, I followed this recipe found on The Food Network, without adding any olive oil.
Packaging
There's nothing to package! It all goes into a single bag.
Chili is one of those dishes that is easy to prep, but requires a long simmering time. This extended cooking makes it taste even better after it's dehydrated!
Seriously, I think the taste of dehydrated turkey chili is better than when it's freshly made. There must be some flavor development during the drying process that increases the delciousness. In addition, when you're rehydrating it you can control how thick or runny you prefer your chili. Personally, I love a thick pasty chili that will stick to my spoon and my gut, so I rehydrate with significantly less water. Trying to reach that consistency while making regular (non-trail) chili requires additional simmering time on the stove which often ends up in burnt chili because it's hard to get the water content low enough for it to be thick.
But if you prefer a little runnier chili, just add more water. There's something for everyone.
You could certainly use the traditional choice of ground beef, but I'll go ahead and be a blasphemer, "turkey chili is better (for dehydrating)." 
That's right, turkey makes a better chili here because 99% lean ground turkey is very easy to find. Try finding 99% lean ground beef, I'm not sure it even exists. This plays a very important role in drying our food for the trail because we want as little fat content as possible to prevent spoilage. Not only that, ground turkey rehydrates significantly better than ground beef. In fact, this chili rehydrates back to the same exact texture as if it was fresh made. If I had any understanding of food science this would be the part where I talk about how the protein structure of turkey allows for better rehydration, but I have no clue, so you'll just have to take my word for it.
One of the great things about this meal is that you can make multiple large servings all at once and dehydrate it all at once. There's very little additional work to add more servings, it scales incredibly well. Although the Food Network recipe says it makes 5 servings, I think you can expect it to yield 2 incredibly large servings, or 3-4 reasonably sized servings; the best part of making your own meals is you get to choose the weight, calories, and serving size!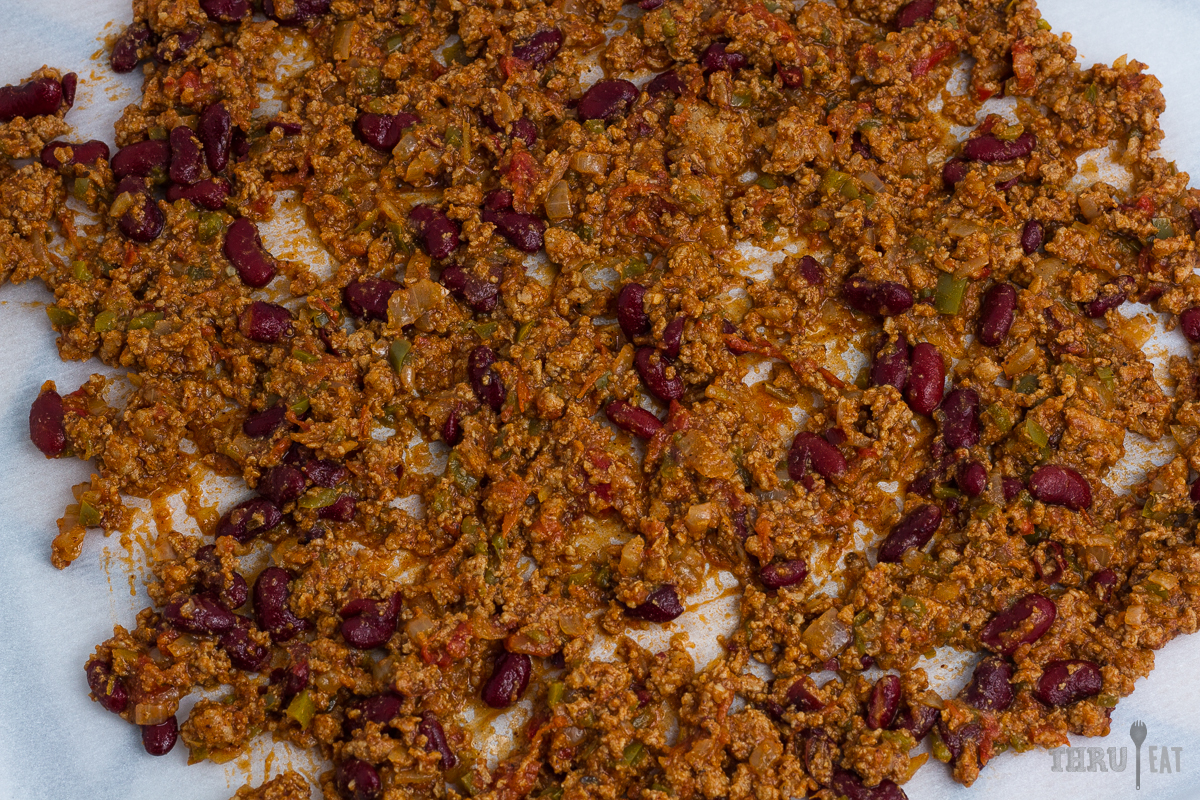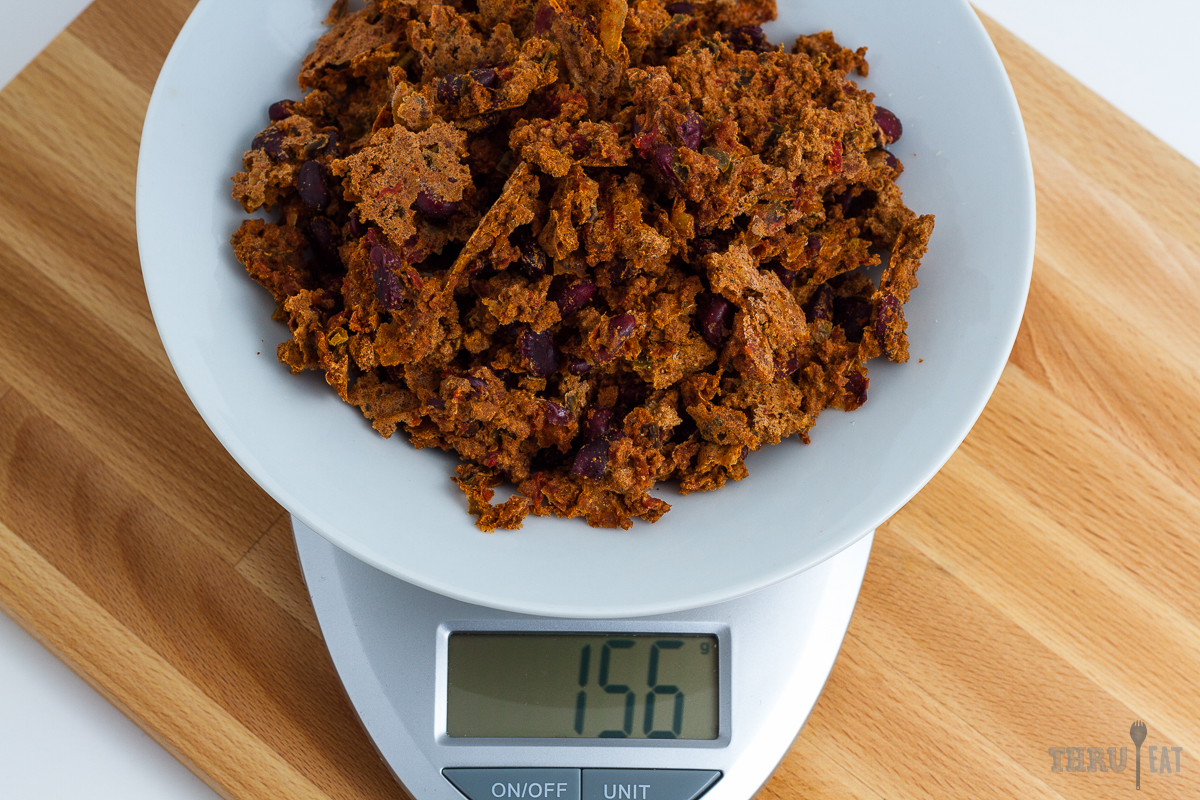 Directions
Add dehydrated chili to pot.
Fill with water to barely submerge.

Cover pot, place on heat and simmer for 5-10 minutes while stirring occasionally.
If necessary, add more water.
Turkey will rehydrate very quickly, check beans for doneness instead.
Add olive oil and mix.
Rehydrated turkey chili should have the same taste and texture of fresh chili.