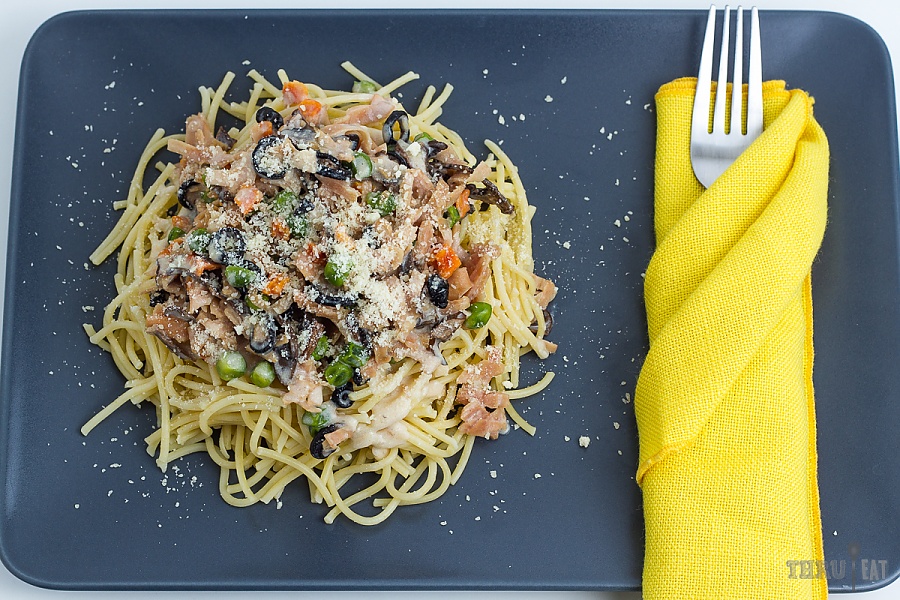 Packaging
Bag 1:
spaghetti noodles
deli turkey
peas & carrots
olives
mushrooms
Bag 2:
all purpose flour
garlic powder
powdered milk
powdered butter
Bag 3 (optional, can also be mixed with bag 2):
What is Turkey Tetrazzini? In short, it's an American dish invented in the early 1900s named after an Italian opera star with no standard recipe.
There's a rough idea of what it contains, but if you browse online recipes there's absolutely no consistency and different folks add or substitute different ingredients and even proteins. To my culinarily untrained eye it's another pasta dish in a creamy sauce. To my equally untrained palate it's just plain delicious!
Having had it a number of times at dinner parties and looking at recipes online I figured the non-standard nature lends itself well to being a backcountry mouthgasm. We can make it however we like, score! But let me preface this by saying this particular recipe is an amalgamation of my personal encounters of turkey Tetrazzini as made by friends, as well as recipes found online. If you have an old family recipe please by all means use that instead, but you'll probably have to substitute some ingredients, particularly the liquid ones; and recalculate the weight and calories.
If you're not particularly fussy about authenticity, and just like to show your mouth and tongue a good time, then this is a fail proof dinner option. The ingredient list is rather short and pretty simple. The most uncommon ingredient on there is powdered butter and powdered milk, everything else can be readily purchased at the grocery store or found in the back of your pantry. A few hours in the dehydrator and you're golden.
Keen readers may notice a spoonful of chicken bouillon on display, that would've been a grave a mistake to use. I initially figured the dish would need some additional seasoning. I was wrong, very wrong. With the use of deli sliced turkey, canned black olives, and parmesan, all of which are incredibly sodium dense, no additional seasoning is necessary. In fact, you might consider adding parmesan cheese at the very end to suit your taste. The one thing you shouldn't forget though, is flour, which allows it to thicken up into a delicious creamy sauce.
For our friends who have gluten allergies, you can skip the flour altogether, substitute with cornstarch, or use more powdered butter. And while gluten free spaghetti noodles are an obvious choice for those afflicted, be sure to check that your deli turkey is also gluten free as some brands may contain wheat based filler.
While there's really not much to this dish, both in terms of history and difficulty, it's really tasty and very modifiable to suit various taste preferences and even dietary restrictions. If you don't want to use turkey, you could substitute chicken. Don't like peas? No problem, put in broccoli or spinach instead. There are even some recipes that call for slivered almonds; a very effective calorie and texture boost. And of course, you should always add olive oil to your meals! Trust me, you won't be going hungry if you go this route, but you might end up wanting more.
Directions
Add contents of Bag 1 into a pot and submerge completely with water.
Place on heat and bring to a simmer for 5-10 minutes.
Simmer until all ingredients are properly rehydrated. Peas & carrots or noodles will be the last things to finish.
Drain the majority of water, but retain a small amount.
Add contents of Bag 2 and stir; aiming for a creamy consistency. Add more water and put back on stove if necessary.
If you packed parmesan cheese separately, add it to your taste preference.