There are certain factors and preferences that might lead you to use one fuel over another. In order to determine what fuel to use you need to evaluate your backpacking itinerary, your meal plan (is it just add water or do you need to simmer?), and decide what's important to you and what you're willing to sacrifice in exchange for it.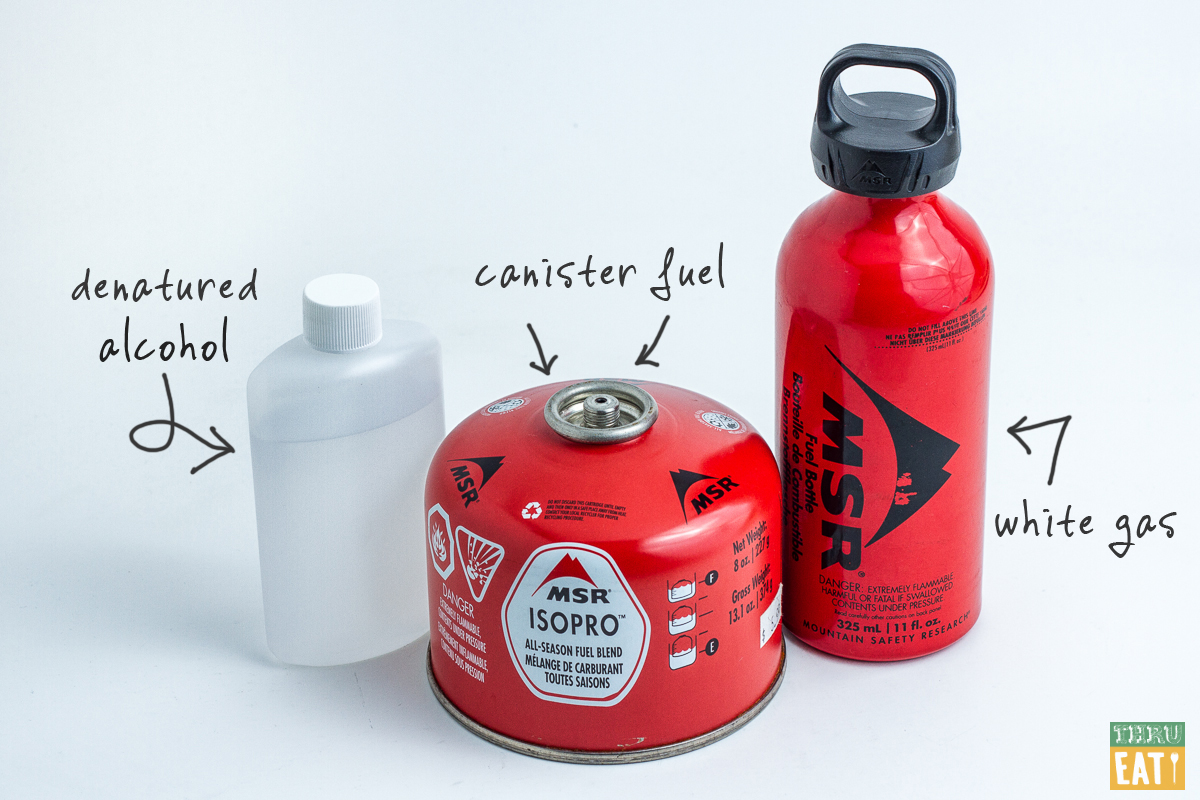 At the end of the day just about anything that burns can be used to cook delicious backpacking meals, but some options may be lighter, more convenient, or more affordable. If you already have significant backpacking experience then you likely already have a preference, but if this is all new to you, don't worry, you'll probably end up trying all types of fuels through your backpacking career anyway. Here are the gritty details on the more popular options:
White gas and denatured alcohol are typically more "advanced" fuels, and by that I mean they require marginally more effort and care. Let me be clear, I don't mean a beginner shouldn't use these fuels, but rather, they're enough of a hurdle that the benefits may not be immediately worthwhile to someone who is brand new to backpacking.
Denatured alcohol has the lowest energy density of all three fuel types (we're ignoring wood) and may appear to be a bad choice, but it's secretly a winner. The lower energy density means it's not extremely volatile and can be kept in plastic bottles, bringing only the fuel you need, instead of heavy and bulky canisters. In addition, the stove isn't subjected to intense temperatures and thus, can be incredibly lightweight. It does however require a brief priming period for the alcohol to vaporize before it'll burn properly, which depends on ambient temperature and stove design.
In terms of trail cooking, the lightweight nature of alcohol stoves means it can be a little unstable without additional pot supports. Because there's typically a lot of stirring involved when reconstituting our backpacking meals it means extra care must be taken to avoid tipping over the stove.
On the opposite side of the weight spectrum is white gas. It requires storage in a metal container and uses pressure to deliver fuel to the stove. And like alcohol, requires a period of priming in order to get the liquid fuel to vaporize and burn. The necessary components to make it all function are much heavier in comparison and typically not the most user friendly to use. It does however have a place to shine, and that's in high elevation cold weather. It will burn happily in the most hostile of environments where other fuels might struggle.
If you want to jump right in and explore these fuels that's okay and you'll probably be fine. Just be sure to try it out at home and in different scenarios before you hit the trail for an extended trip. Above all else, remember that these liquid fuels need to be handled with care, and should be used away from anything that can catch fire.
The Bottom Line on Backpacking Fuel*
(*for beginners and most backpackers)
Use canister gas. Canister gas will likely cover the needs of most backpacking trips and is probably the most commonly used. While it's more expensive compared to white gas and alcohol, it's not much more so. It's readily available and more importantly, easy to use. If you're just starting out backpacking or wilderness camping this should be your first fuel type. It doesn't require any priming, pouring, or guesswork; it's controlled with a twist of a valve much like a home stove. Easy. It will allow you to simmer your dehydrated backpacking meals without burning, but that may depend on your stove design.
If you're a more experienced backpacker you might be looking to expand your repertoire or address some shortcomings of canister gas (weight and bulk!) An alcohol stove would be the next logical step, but be sure to bring along a simmer ring, a sturdy pot stand, and snuffer for your stove. Don't forget to bring your patience either, sometimes it can take a little longer to get the stove started and the boiling times may be slightly longer if the weather isn't particularly friendly.
Serious mountaineers probably don't need any advice about white gas stoves. But I'll mentioned that white gas isn't necessarily the de facto standard anymore for cold weather trips as most canister gases nowadays are four season blends designed to work in all conditions. If you keep the canister near your body to keep it warm it'll work just fine.
There are also remote canister stoves with preheat loops (called generators) that allow the canister to function upside down. This causes the fuel to leave the canister in liquid form (since it doesn't vaporize as well when cold) and then vaporize within the generator. If you're carrying crampons and ice axes the last thing you want is the extra weight of white gas. For what it's worth, I think it's pretty telling that spent canister gas is littered all over the place in camps above Everest Base Camp.