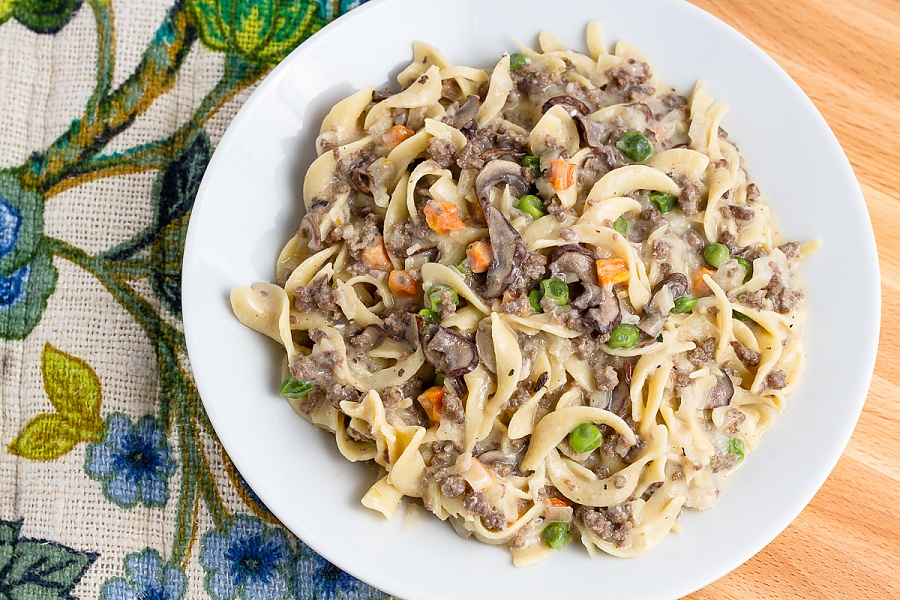 Packaging
Bag 1:
McCormick stroganoff sauce packet
powdered sour cream
beef bouillon
smoked paprika
pepper
Bag 2:
egg noodles
ground beef
mushrooms
onions
peas and carrots
Have you ever seen beef stroganoff from a bag look this good? I'm leaning towards no, but you can check for yourself; head over to Google and do an image search for 'freeze dried stroganoff.' It's not pretty. In fact, the picture above would've been even more appetizing looking if I didn't get so carried away with stirring. 
Nevertheless, you can make your own beef stroganoff that looks better, and more importantly, tastes much better.
The ingredients are pretty simple, and there's very little prep involved except for some weighing and measuring. The bulk of the work is done for us thanks to the good folks at McCormick and Honeyville, all you have to do is dehydrate a few ingredients and throw it altogether. In reality, you could get by without the McCormick seasoning packet and just make your own. It's mostly flour, onion powder, garlic powder, milk powder, and some spices like white pepper and basil. However, you'll still need the Honeyville powdered sour cream, unless you're comfortable dehydrating your own. Even with that little bit of overhead, the results are definitely worth the extra effort. 
Directions
Add Bag 2 (all the dehydrated ingredients) into a pot and fill completely with water
Simmer until all ingredients are rehydrated and tender
Drain, but retain enough water to keep ingredients partially submerged
Slowly add Bag 1 (seasoning powders) and stir, add more water if necessary