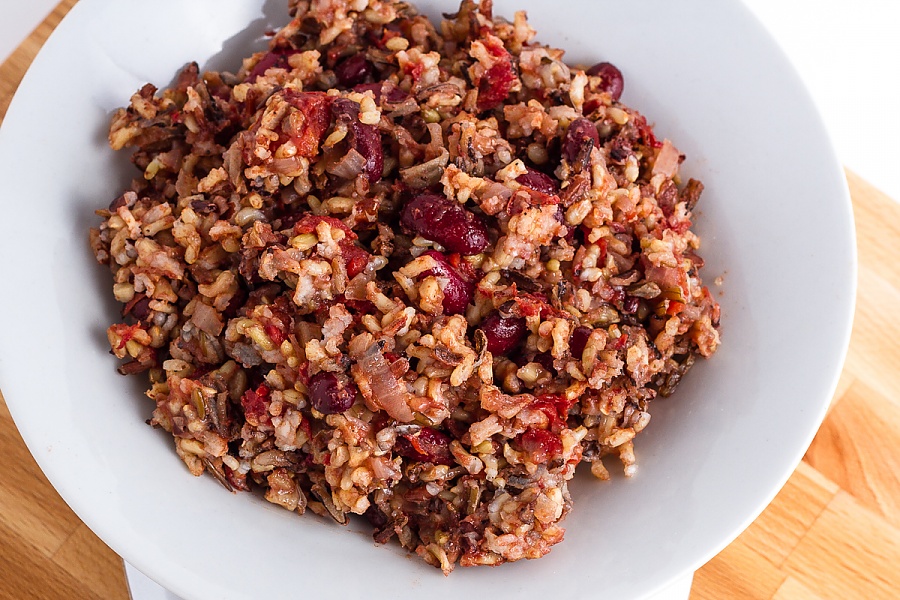 MAKES 3 SERVINGS (weight and calories below are for 1 of 3 servings)
Packaging
All ingredients are cooked together and dehydrated together. It packs into one container, you can't separate it even if you want to.
Rice and beans may be the one dish that transcends all cultural boundaries. In the United States, the Southern creole staple immediately comes to mind. In Mexico, well, we need not say much about that. Rice and beans is so ubiquitous that a Korean variation exists, and even to the uninitiated, it is unmistakable.
The wide spread popularity of a such a simple dish has an equally simple explanation. Affordable, and nutritious. Both rice and beans are staples in many, if not most countries around the world. They are easy to transport, easy to cook, and most importantly, between the two they are a complete protein, providing all nine essential amino acids our bodies are not able to produce. It doesn't take a rocket scientist to figure out that this is an affordable meal. Rice and beans is the cliche staple for those who find themselves needing to tighten the purse strings, but don't want to starve to death. We can easily apply that logic to our backpacking excursions.
If you went out and purchased all the ingredients, this particular recipe costs no more than $10 to make and yields 3 large servings, with plenty of rice leftover for other uses. We like to indulge our taste buds with a wild rice blend (plus it looks more appetizing), but if you use plain white or brown rice, this entire meal can be made for less than $1.75 per serving. At that price point, there are very few options that can compete, especially after you consider the nutritional wallop it packs. In additional to the cost and nutritional value, it's other significant selling point is weight and volume. Afterall, that's what you're here for isn't it?
Not only does it have an insanely high caloric density (without adding any oils), it utilizes space very efficiently and packs down much smaller than most ready-made meals or even other dehydrated meals. This makes it a top contender for those who are doing long stretches between resupplies; since it can be smashed and smooshed into oblivion and still retain its shape and consistency when rehydrated. Unlike other recipes on this site, it's not just a combination of already dehydrated ingredients. We actually have to do some cooking at home, and then dehydrate the meal in its entirety. Fortunately, there's not much cooking involved beyond simmering and making sure things don't burn. The dehydrated end result still looks surprisingly delicious.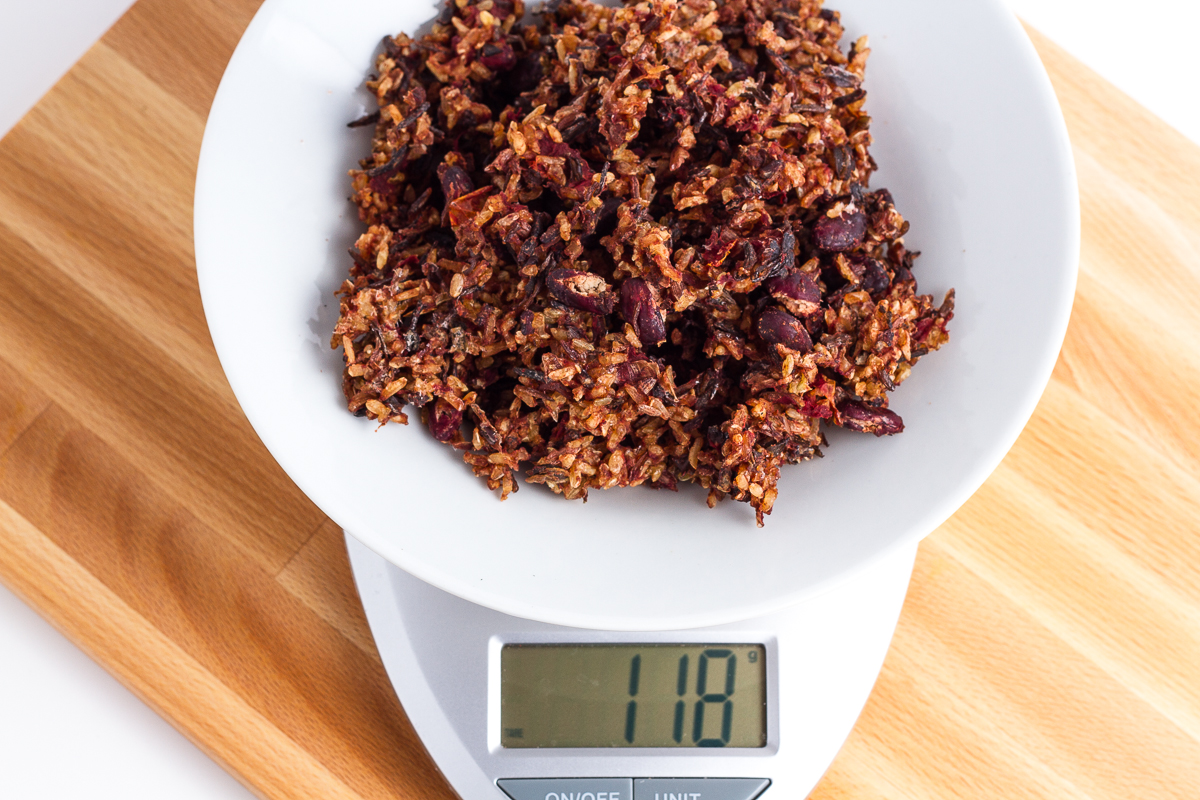 For those of you who are here for the numbers, the above recipe cooks up to roughly 1400 grams, which will vary depending on how much water you cooked with and how much evaporates during cooking. The important part is that it yields 1827 calories, and while it can be stretched to 4 servings, 3 servings is more reasonable; making it 609 calories/serving. Once dehydrated, and split into thirds, each serving is a featherweight 118 grams.
Directions
AT HOME:
Add all ingredients into a rice cooker along with 1.5 cups of water and set to cook.
Typically, water-to-rice ratio is 1.5:1 or 2:1, but the kidney beans and diced tomatoes also contain water so we use less water here.
If you do not have a rice cooker, add all ingredients to a pot with a tight fitting lid.
Bring to a boil, and then reduce heat and simmer for 45 minutes.
After 45 minutes, remove from stove and let sit for 10 minutes and then fluff.
If rice is still crunchy, add a couple tablespoons of water and return to heat. Repeat if necessary.
Let rice cool down and then spread it on dehydrator tray.

Dehydrate at 125°F for 6-8 hours, or until beans are easily broken between fingers and tomatoes no longer wet.
Break apart large clumps before storing. You can do this by crushing it between two plates or just squeezing it in your hands.
ON THE TRAIL:
Empty entire contents of dehydrated rice and beans into pot.
Add just enough water to completely submerge everything.
Optional, but very helpful: cover and let sit for 10 minutes
Cover pot and heat on a low simmer.
Stir occasionally to prevent scorching.
If scorching/burning occurs, add more water or reduce heat.
Remove from heat and let sit covered for 5-10 minutes, or until kidney beans rehydrate to normal texture.