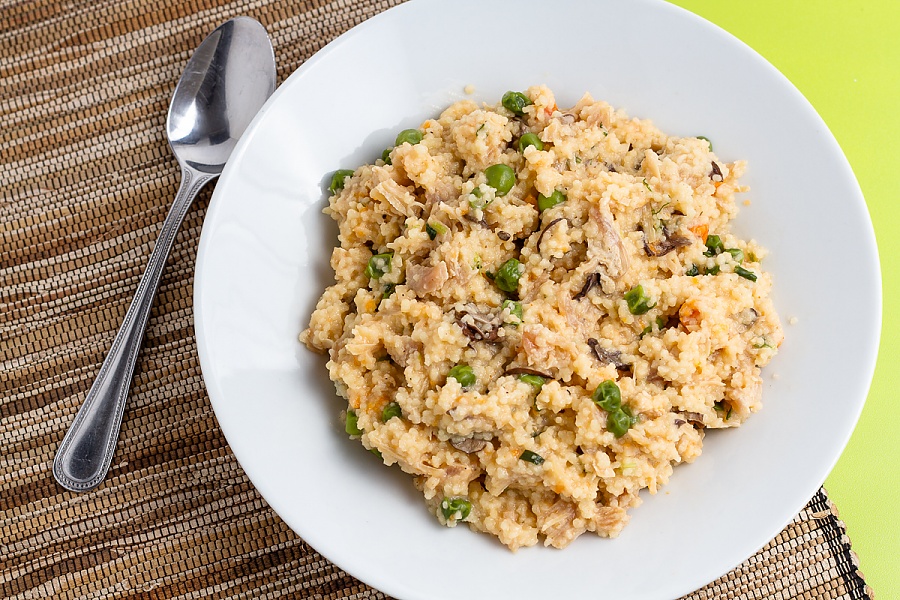 Packaging
Bag 1:
chicken
peas and carrots
garlic powder
onion powder
green onion
chicken bouillon
mushrooms
cayenne
ground coriander
Bag 2:
couscous
powdered cheese
powdered butter
This is one of our favorite dishes to have on the trail, and even at home. The quick cooking nature of couscous makes it one of the shortest cook times for a meal as tasty as this. In fact, couscous doesn't really have much of a cook time, it just requires sitting in hot water for 5 minutes. If you replace the dehydrated chicken with freeze dried chicken the meal rehydrates even quicker!
Traditionally, couscous is cooked by steaming, but most of the couscous you find in the store is already cooked and then dried. It's considered "instant" couscous despite the fact that it's rarely ever labeled as such. Check the cooking directions on the back. If it says to add hot water and let sit for 5 minutes then that's the one you want. If the cooking instructions are anything beyond that it's probably the uncooked variety and not suitable for easy backpacking consumption. 
While food weight is the primary concern for most backpackers planning a trip, an often overlooked consideration is packability. There's only so much space in your pack, or bear bin, to store food. Your meal may weigh very little, but if it requires a large volume of space then it's not really that efficient. The more compact and uniformly shaped your food, the more you'll be able to carry in a smaller space. Couscous fits this criteria better than anything else. While it's not the most calorically dense, it makes you feel full very quickly and utilizes otherwise wasted storage space as it's able to fit into all the oddly shaped nooks and crannies. There have even been some stories of backpackers dumping couscous directly into their food storage containers and sieving it out as needed. That's undeniably the most efficient use of space, but likely not the most convenient.
So if you ever need to minimize your food bulk and you like cheesy meals, and couscous, then this recipe is probably your golden ticket. And don't worry about the lower calories, add a tablespoon of olive oil and the caloric density quickly gets bumped up to 4.15 cal/gram (117.76 cal/oz). Take it to the mountains for a couple weeks, or if you're like me, have it for dinner and take leftovers to work for lunch.
Directions
Add all contents of Bag 1 with 1 1/2 cup of water to pot and bring to a simmer.
Stir, and let sit for 5 minutes or until chicken, peas and carrots, and mushrooms are rehydrated.
Bring pot of water and ingredients to a full boil.
Once boiling, add Bag 2 (couscous and cheese powder).
Remove from stove, stir well, and cover.
Let sit for 5 minutes.