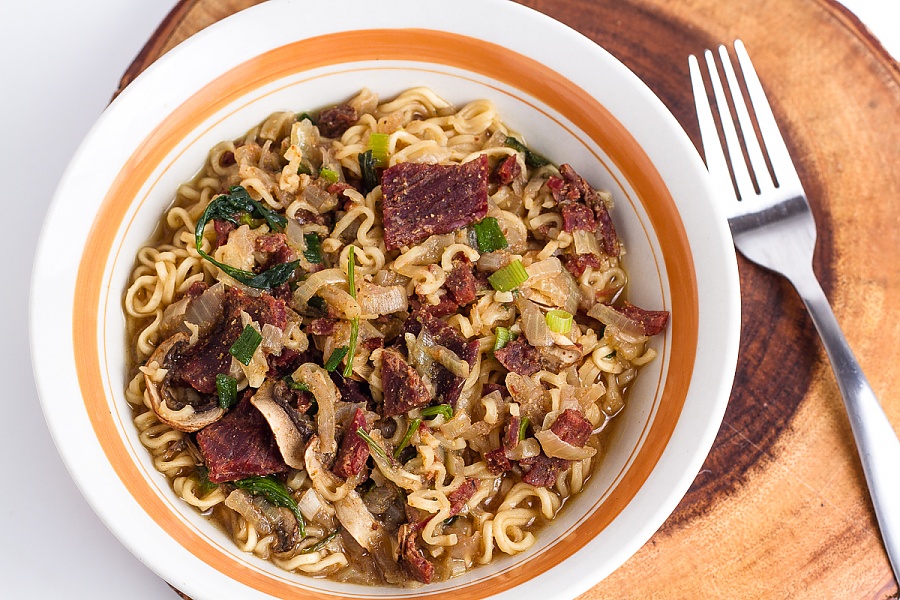 | | | |
| --- | --- | --- |
| 84g, 1 packet | instant ramen noodles | 380 cal |
| 6g, 1 1/2 tsp | beef bouillon | 15 cal |
| 0.9g, 1/2 tsp | ground coriander | 2.5 cal |
| 1.2g, 1/2 tsp | onion powder | 4 cal |
| 1.55g, 1/2 tsp | garlic powder | 5 cal |
| 0.53g, 1/4 tsp | ground star anise | 1.75 cal |
| 0.5g, 1/4 tsp | ground cinnamon | 1.5 cal |
| 0.26g, 1/8 tsp | ground cloves | 0.75 cal |
| 0.22g, 1/8 tsp | ground ginger | 0.75 cal |
| 0.2g, 1/8 tsp | True Lime | 0 cal |
| 5g | dehydrated onions | 22 cal |
| 3g | dehydrated mushrooms | 10 cal |
| 35g | beef jerky | 90 cal |
| handful | dehydrated cilantro | 0 cal |
| handful | dehydrated green onion | 0 cal |
| 14g, 1 tbsp | olive oil | 119 cal |
Packaging
Everything can be packaged into a single bag.
I love instant ramen noodles. I love it when I'm on the trail, and I love it even when I'm at home. It easily makes the top-ten list of "best inventions from Japan" and has become a cultural and dietary staple of young fledging adults who can't or won't cook.
Its price point makes it an incredible choice for backpacking and its flavor is as decent as instant noodles can be. However, eat it enough and all the flavors end up tasting pretty much the same, salty. So throw the seasoning packet away and make your own! The magic of instant noodles is not in the little satchel of sodium, but in the noodles itself. Ramen noodles can be used for a variety of things from stir fry to ramen hamburger buns, so why not Vietnamese pho?
Pho purists are probably steaming from their ears at the thought of this, and everyone else is probably just confused. If you've had pho before you're wondering how this could possibly work, and I'll have to admit it's not exactly the same as a fresh bowl of rare brisket from the angry Vietnamese lady, but it definitely conjures up the same smells and distinct spices that make pho so delicious. For those still scratching your heads, find a Vietnamese restaurant near you and get a bowl of brisket, tripe, and assorted delicious cow parts. You can thank me later.
While I prefer using instant ramen you can certainly use authentic rice noodles, but you'll have to get the kind that doesn't require refrigeration and then package them into appropriate serving sizes. Instant ramen is just so much easier, and keep in mind we're not making a culinary masterpiece, we're sleeping on the ground later. So ready your forks and/or chopsticks and let's make the most aromatic meal any bear has ever smelled.
Note: this isn't going to be a crystal clear broth. If you drink the broth it'll pretty gritty since the ground spices do not dissolve, but it's deliciously flavorful and good to the last drop. Depending on your beef jerky, it may or may not become very tender when rehydrated. Stick to more neutral flavors of beef jerky like "traditional" and avoid teriyaki or other bold flavors.
Directions
Add 1 1/2 cup of water to your pot and set on stove
Immediately add all dry ingreidents and spices, except for noodles
Bring to a simmer
Once mushrooms, onions, and jerky are rehydrated and tender, add noodles
Turn off stove, cover pot, and let sit until noodles are cooked to desired doneness